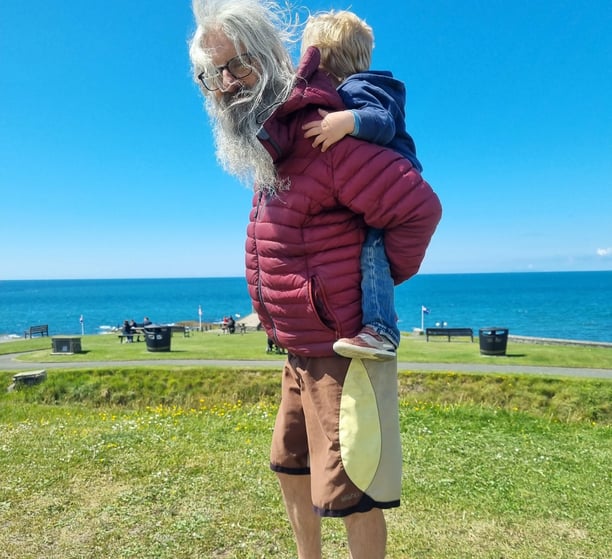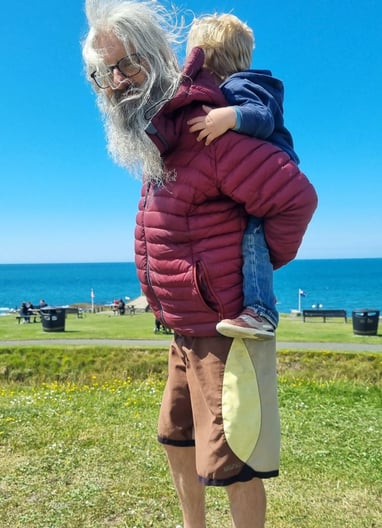 AberAdventures owner and head coach, with 30+ years personal experience surfing all around the globe.
An experienced competitive surfer. Si has the experience and knowledge to provide excellent coaching from beginner through to competition level.
International Surfing Association Level 2 Surf Coach. SLSGB Surf Coach Safety and Rescue Award and Water Skills Academy Stand up Paddle board instructor.
Other interests; his family, trail running, mountain biking, yoga and swimming.."Surfing is not a matter of life and death.. it's more important than that!"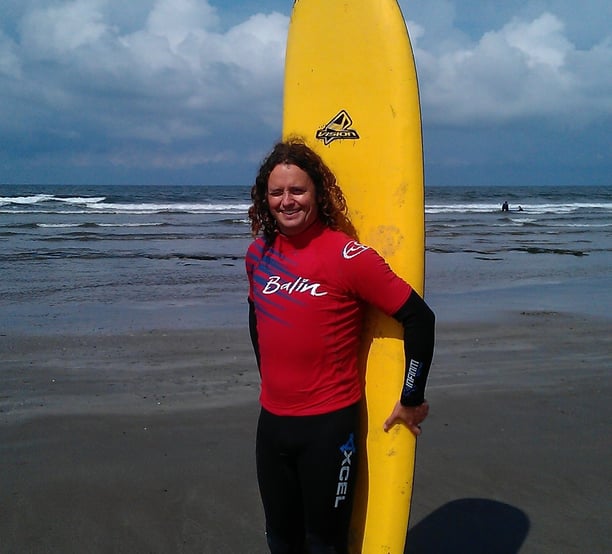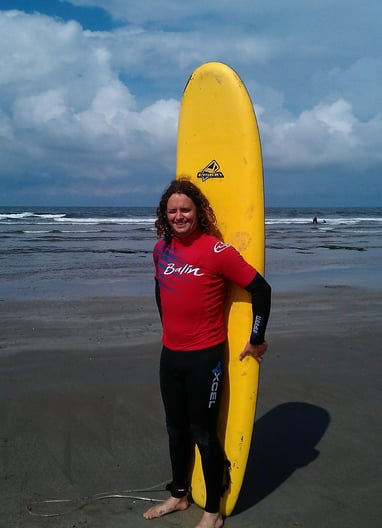 AberAdventures Owner.
Having been involved in sports since he could stand on his own two, in 1991 on a freezing November day hailstones the size of conkers and his backside hanging out of 2 borrowed wetsuits the 1st true experience of surfing was had.
Since then Graeme has enjoyed and shared the sport with many. Mainly surfing in Wales at weekends and whenever conditions looked good. Further a field trips to France, Canaries, Hebrides, Orkneys, Portugal, New Zealand, Hawaii, Cuba, Australia and Indonesia have all fed the hunger and the respect of what we have on our own doorstep.
"Surf until the Turf…….."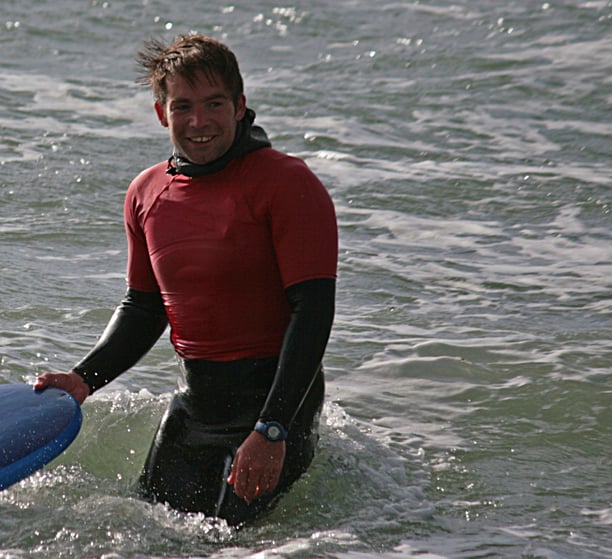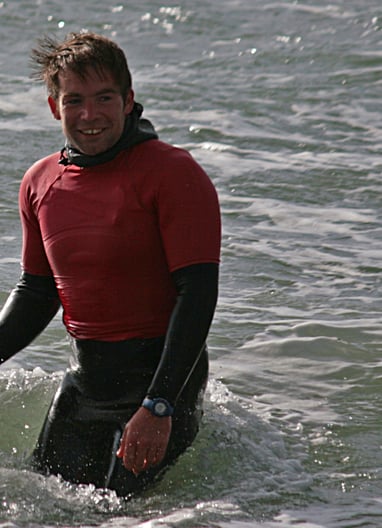 Having surfed for many years here and all around the world, including Scotland, Ireland, Maderia, New Zealand, Sri Lanka and Morocco.
An experienced surf coach, with unparalled water and seamanship skills on a number of different water going craft. Surfboards, open water swimming, kayaks, SUP's, powerboats, sailing yatches and tall ships. Rhys is a true waterman.
Rhys doesn't sit still for long! He is either surfing, mountain biking, running and also Borth RNLI Lifeboat Helm and volunteer firefighter.
How does he fit in time to work!?
International Surfing Association level 1. SLSGB Surf Coach Safety and Rescue Award.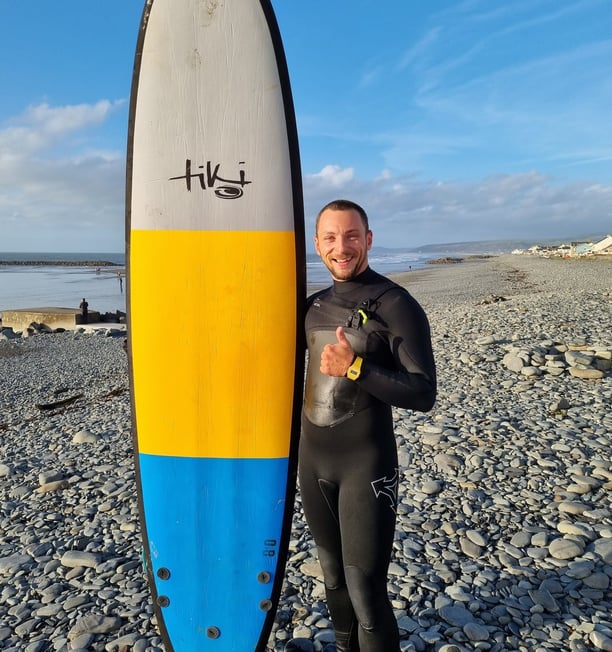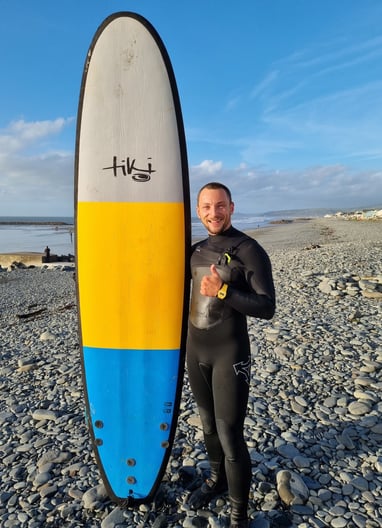 A hugely experienced surf coach of 6 years and by far the most organised member of the crew.
Matt is an incredible surfer, sponsored by SBS boards, Daisy's Cold Water Surf Cream, For Sport CBD and Rip Ride Wear.
He always looking to improve his personal skill set. He has a massive bank of surf coaching knowledge and coaching skills to perfectly suit every age and ability.Lessons with Matt guarantee precise coaching.
With an innate understanding of every idividuals, body mechanics and aspitrations. Matt will bring out the best in you, leaving you exhilerated and fired up for more surfing.
Matt is also an extremely busy guy, a PHD student at Aberystwyth University, climbing instructor and mountain leader.
When Matt's not ripping the local waves apart, he can found climbing in North Wales or buying a new surfboard. Matt has a lot of surf boards!
International Surfing Asociation Level 1 Coach and SLSGB Surf Coach Safety and Rescue Award.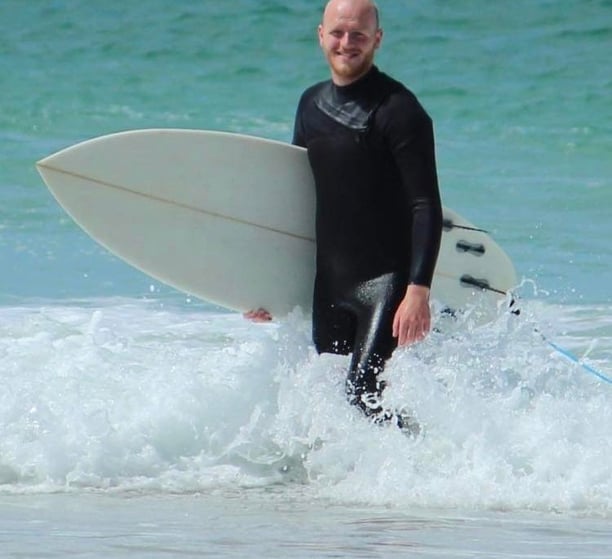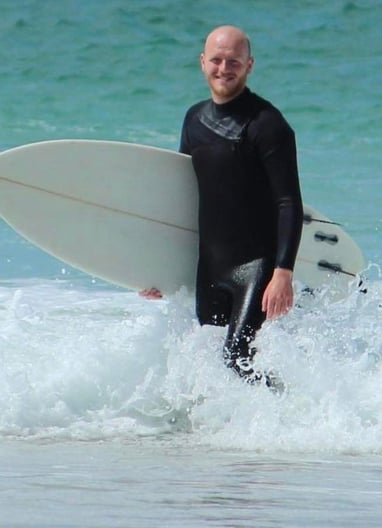 Another die hard local, who has risen through the surf school ranks to become an excellent coach.
Lewis started surfing Tywyn on his own, during primary school and then joining our Tywyn after school surf club.
He has further enhanced his surfing ability with trips to France and around the UK. Lewis loves to surf , paddle board, kite surf and sail (and his van). Another true waterman with a massive knowledge base and fun personality.
A lesson with Lewis will leave you laughing and truely stoked for more.
During his youth he had an uncanny resemblence to the ex-prime minister.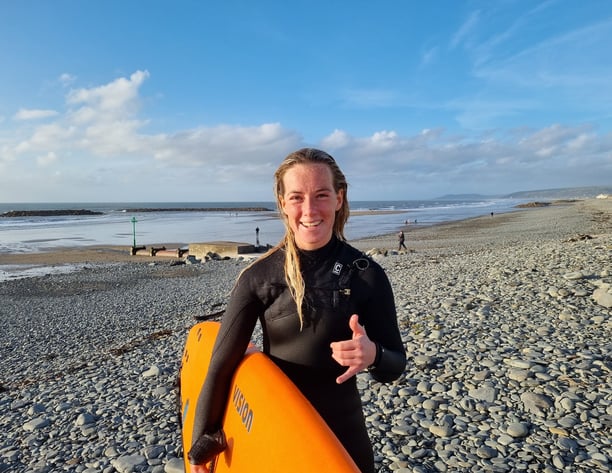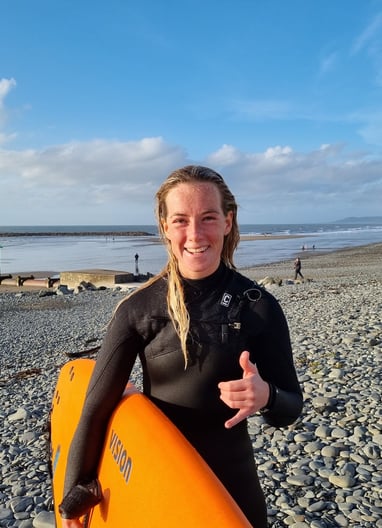 Cerys is a Cornish ripper from Bude and surfs with style and power.
Her Welsh family heritage brought her back to study at Aberystwyth University.
Cerys' lessons are delivered in a patient laid back style. With a huge coaching skill set, she enthusiastic and supportive, drawing on her passion for surfing to deliver the highest level of coaching.
International Surfing Asociation Level 1 Coach, SLSGB Beach Lifegaurd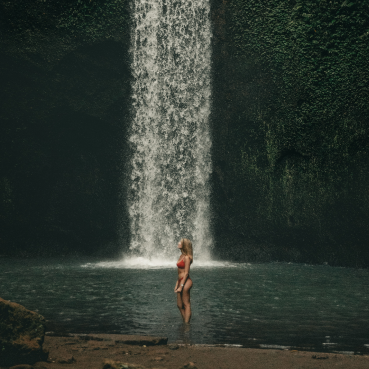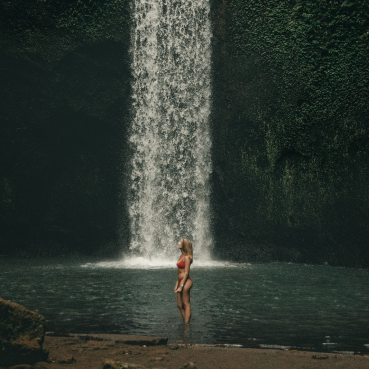 Trina is an amazing coach, with a fantastic skilled style of teaching that is loads of fun, supportive and hugely encouraging. Lessons with Trina will leave you smiling for days!
Trina loves to surf and paddle board and is quickly becoming a local shredder.
She is originally from the Gower in south Wales. When there's no surf Trina's other passons are climbing and horse riding. International Surfing Asociation Level 1 Coach, RLSS Surf Lifeguard Award and Water Skills Academy Paddle Board Coach.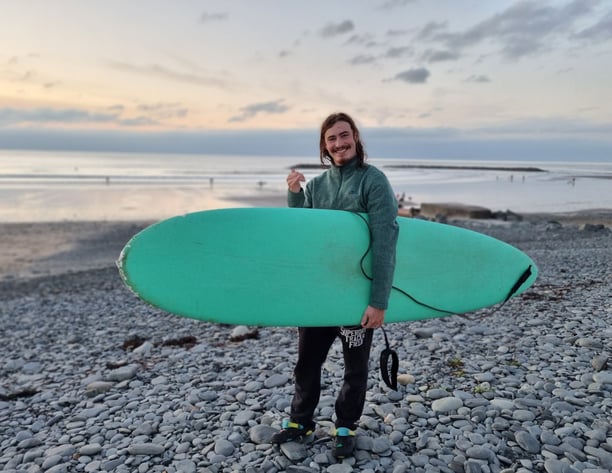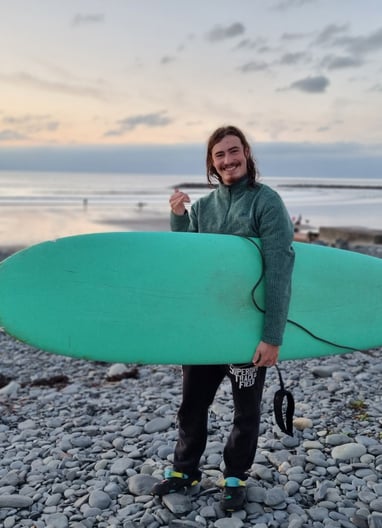 Pat is an incredibily skilled surfer, paddle boarder, student and president of Aberystwyth University Surf Club.
Pat's laid back style of coaching instantly makes everyone feel at ease. He delivers skilled and knowledgeable coaching of the highest quality.
International Surfing Association Level 1 Surf Coach. SLSGB Surf Coach Safety and Rescue Award and Water Skills Academy Paddle Board Coach.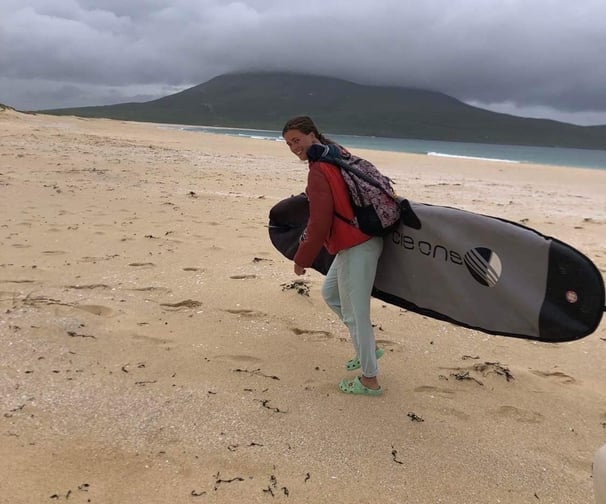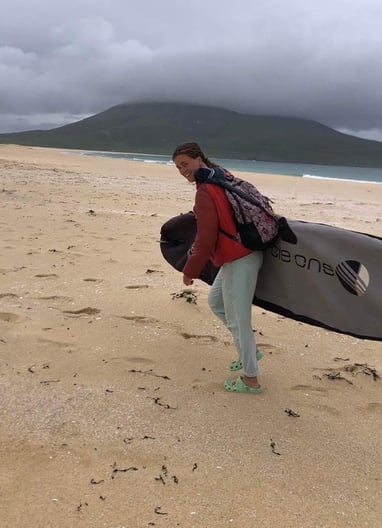 Erin is a stoked surfer and paddle boarder, with Ynyslas beach just across the road from her house.
Erin is passionate about coaching paddle boarding and her concise style will have you, smiling and standing up paddling in no time at all.
Water Skills Academy Safety and Rescue and Foundation Paddle Board Coach.Å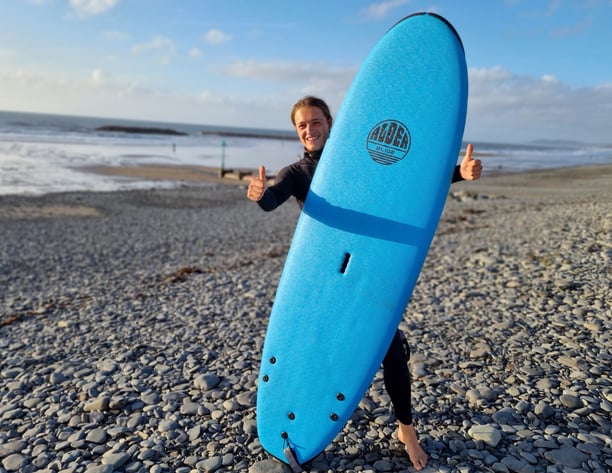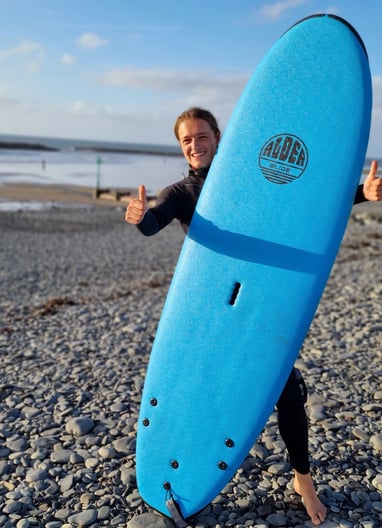 Another super stoked surfer from south Wales, Celyn loves to surf.
Celyn has been surfing for 4 years. His favorite place to surf is here in Mid Wales and his favourite place to be is the beach, either for work or play. His passion for surfing shines through when coaching, he is both knowledgable and ancouraging for all abilities and ages.
Outside of surfing Celyn is a talented musician, playing in a very popular local band.
International Surfing Association Level 1 Surf Coach. SLSGB Surf Coach Safety and Rescue Award.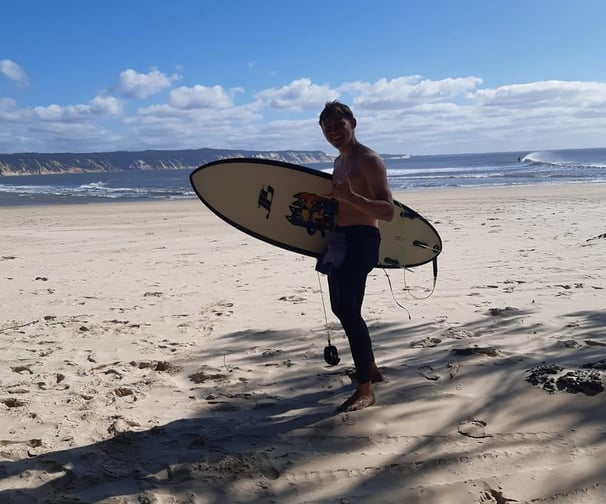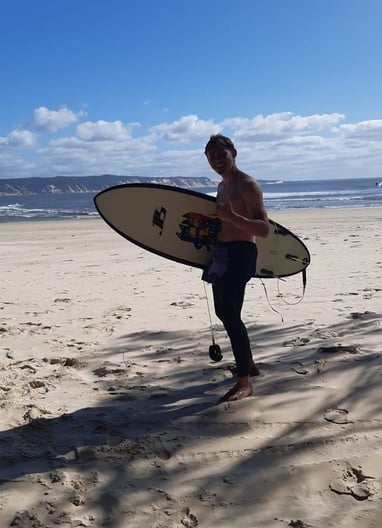 Ben is the newest member of the team, another coach that started in our after school surf clubs and has become a coach of the highest quality.
Knowledgebale and highly skilled, Ben rips and has recently further improved his surfing with trips to Indonesia and Australia.
Ben is also a gymnastics coach and uses all his coaching experience to deliver amazing surf lessons. A wise head on young shoulders. International Surfing Association Level 1 Surf Coach. SLSGB Surf Coach Safety and Rescue Award.